As we mark the one year anniversary of the launch of the first results of the Global Data Barometer, we reflect on the significant impact that this initiative has had on the world of data for public good.
On May 11th, 2022, the Global Data Barometer (GDB) launched its first results after two years of hard work and many challenges. The GDB team, together with key stakeholders, participated in the event to launch the results. The GDB has been a collaborative effort involving more than 100 researchers gathering data from 109 countries, coordinated by 12 regional hubs and supported by 6 thematic partners. The results of this first edition provided a comprehensive snapshot of the current state of data availability, governance, and use worldwide, highlighting both the progress made and the challenges that lie ahead.
Thus, the Global Data Barometer (GDB) has played a crucial role in providing globally comparable evidence to support national and global decision-making related to data for development strategies. In the past 12 months since the launch of its first results, we have seen how the data has been used by stakeholders across different sectors to create new products and support their work.
During this past year, the Barometer has been mentioned in various  types of reports and articles. It has also been used as input in other measurements, such as the Government AI Readiness Index or the Hong Kong Open Data Index Report. The work with regional partners is also reflected in more than 100 mentions in 47 countries and/or regions, in 15 languages, ranging from Zimbabwe to Uzbekistan and Ukraine, to name just a few examples. Furthermore, governments have shown interest in assessing their performance using the GDB, as seen in the cases of Colombia and Estonia. 
The first edition of the GDB revealed relatively high levels of structured and open data publication for government budget and spending data, and for public procurement data, suggesting a positive influence of global campaigns and capacity-building initiatives in promoting data publication and use. For example, the GDB data was used to inform advocacy campaigns, as in the case of lobby data being used by Transparency International to support an anti-corruption campaign during the Uber Files scandal.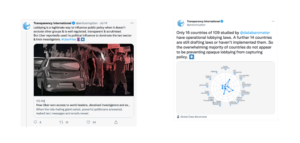 Also, other findings from our thematic partners are, among many others, for example, the significant high value data gaps, according to Open Government Partnership's (OGP) report "Broken Links". For instance, while most OGP countries publish data on tenders and awards for public contracts, few provide information on contract implementation. Similarly, the GDB's data indicates that most countries share some data on the billions spent on public contracts, but not enough to detect corruption or assess value for money, according to Open Contracting Partnership (OCP). Although some data on public procurement is available for most of the 109 countries analysed, only nine countries publish data for the entire procurement process from planning to implementation, hindering effective oversight. Open Ownership also identifies an implementation gap, with most surveyed countries having provisions for the collection of beneficial ownership data, but only a few countries making data publicly available. On the other hand, Land Portal's shows that in countries where land data is available online, it is almost exclusively due to government-led action and policy support for transparency and public accountability. This highlights the significant role that governments play in the production and opening up of land data, emphasising the need for continued engagement with governments.
In this context, to advance more democratic and inclusive data governance, global metrics such as the GDB can help government reformers and civil society advocates. Additionally, pursuing more targeted research can address the specific needs of developing democracies in their efforts to build more effective governance institutions. The examples mentioned above are just a few of the ways this data can be utilised, but much work remains to strengthen these types of initiatives.
"
For the Estonian digital society to leap development and implement innovative solutions based on artificial intelligence to increase the user experience of the digital state, data and their use play a key role. We have consistently developed the data field, and it's good to see the results of this work
," said
Andres Sutt,
Minister of Enterprise and Information Technology
Looking ahead, the GDB team is already working on designing the second edition to track progress of countries over time. In the meantime, to access the first edition's results, we invite everyone to explore our website and check out all the data and additional findings by country and module!
notes
(1) Access Info Europe, Birzeit University, ILDA, Caribbean Open Institute, Open Data China, Open Data Kosovo, InfoCulture, Internet Society (HK Chapter), Institute for Development of Freedom of Information, Local Development Research Institute, Data for Development (D4D) Asia Hub, The Pacific Community. 
Some examples of their work with the GDB data:  https://od4dasiahub.org/projects-1/global_data_barometer/global-data-barometer/global-data-barometer-country-profiles
https://idfi.ge/en/main_gaps_and_challenges_of_georgia_s_public_data_ecosystem
https://www.developlocal.org/africa-data-visualization-challenge-winner-announcement/